★ Now Hiring ★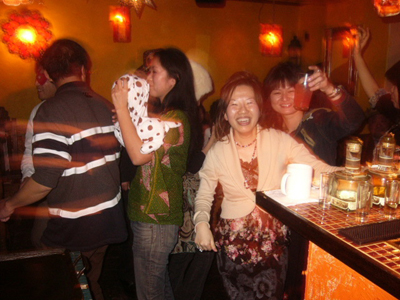 Help Wanted
General Restaurant Tasks
Don Blanco is a Mexican restaurant in Shimbashi currently hiring serving, bartending, kitchen help. We are looking for fun, outgoing people that understand if they put a little work in, they can reap a big reward.
Hours are flexible we are open from 5:00 pm till 11:30 pm.
Preferred if you have at least one year of experience, great if not and you think you can do the job please apply. We are willing to train.
Must be eligible to work in Japan. (E.g. work permit)
■Location■ Tokyo, Shimbashi (5minutes away from the train station)
■Position■ Serving, bartending and kitchen
■Time■ Able to start from 3 hours a day from 5:00 pm till 11:30 pm.
■Eligibility■ Over 18 and ale to work in Japan.
■Pay■ From 800yen per hour~
■Employment status■ Part time (full-time employee)
■Application■ Please Email or call us
      donblamexico@gmail.com
TEL:03-5401-2066
■Screening■  Job interview
       Able to work from the same day upon hiring
Full-time employee has pension, social insurance, etc.
Mexican Restaurant DON BLANCO
3F Momoyama Bldg., 3-18-7, Shimbashi
Minato-ku, Tokyo JAPAN
TEL:03-5401-2066
Hours:MON〜SAT(SUN・Holidays CLOSE)
*We will open for private party over
20 people on Sundays and Holidays
17:30〜23:30(LO22:30)
donblamexico@gmail.com
★★ Travelors' Discount ★★
If you are traveling and looking for a restaurant you can use English, why don't you consider stopping by at Don Blanco? We have English speaking staff on Wednesdays and Thursdays.
Show me your passport or foreigner ID, and get 10% off!
★★ SATURDAY SPECIAL! Tacos al Pastor ★★
We serve an authentic Mexican tacos al pastor only on Saturdays. This dish is not on the grand menu, so please order at the restaurant. 1500yen
Estos son los clasicos tacos al pastor preparados en Don Blanco!
Justo como en Mexico primero se preparan en la parrilla con las tortillas
recien calentadas y como siempre su abundante cebolla y cilantro!
Si quieres probar lso verdaderos tacos, ven a Don Blanco en Shimbashi!
★★ SPICY MOLE NEGRO ★★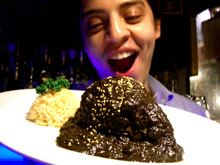 If you are unsatisfied with a regular mole negro, we have a spicy mole negro. An authentic Oaxacan mole contains a high purity chocolate and many types of chilis. You can enjoy a hint of spices under the bitter chocolate flavor.
Pollo en Mole Negro (Chicken with Mole Negro Sauce)
A black mole negro sauce contains chocolate, chilis, rasins, sesame seeds, and 18 types of spices. It is often eaten on a special occasion. 1,200yen




★★ FREE BOTTLE OF TEQUILA ★★

To thank our important customers, if you make a reservation for more than 10 people, and order an all-you-can-drink course dinner, we will specially serve a bottle of free tequila!

Click here for the coupon!

*do not forget to bring the coupon
● Only for reservation over 10 people, 2hrs. all you can drink couse menu.
● No printed material encouragement!
take photos of this ticket using cell phone camera and show it to us!
● We might not accept this service without showing the coupon.
● Please remind us about this coupon when you make a reservation
● This coupon can not be used with other coupon.

Click here for Reservation!



PRIVATE PARTY RESERVATION
If you are interested in a private party at DonBlanco
We accept private party reservation from Mondays through Saturday, for over 25 customers, at FREE of CHARGE. Reservations for Sundays and holidays are accepted for a party over 20 people. Please contact us.
Email: donblamexico@gmail.com
TEL: 03-5401-2066

Click here for Reservation!
★★ Tuesday and Wednesday Coupon ★★

*300yen off for a group
*can not be used with other coupon
*no expiration date
*if you can not print this coupon, please tell us that you saw the coupon

Click here for Reservation!